Networking is the key to success in the business world. However, thanks to the rise of digital technologies, the way we network and socialize has changed dramatically. A key tool for this is the smartphone. Nowadays, it's easy to make contacts no matter where you are.
In this article, we take a look at why networking via mobile is so important and beneficial these days. We talk about the different features that can help you connect with people efficiently and conveniently, and take a look at the Digital Business Card, an innovative solution that makes networking even easier.
Today, more than ever, good contact is a key to success. Networking via smartphone is a practical way to quickly establish and maintain contacts.
Smartphone offers the most networking opportunities on the go
The cell phone is an inexhaustible treasure trove of contacts, customers and opportunities. As business has become more fast-paced, you need to make sure you're always one step ahead when they want to make new contacts. With a digital business card, it's easy to build and maintain contacts.
Your counterpart taps the QR code directly via your cell phone
This digital business card can be viewed anywhere and ensures that your contact details are always up to date. A digital business card can be shared across various networks in the form of a link or a QR code, so you can share it with a larger group of people.
View your current traffic
With a digital business card, you can also check who has viewed your card and thus also see who is interested in your network. By using a Digital Business Card, managers are able to network quickly and effectively and build a wide range of contacts.
The biggest advantage of digital business cards on cell phone
Independent from space
The technology of digital business card has a great advantage. No matter where you are, with digital business card on your cell phone, you always have your business card with you. Your vCard is always where you are.
The biggest advantage of the digital business card is that it can be shared quickly, easily and inexpensively and without paper. Regardless of the number of contacts, you can share your contact information with one person with a single click.
The list of contacts can be updated at any time.
Instead of tediously printing paper business cards, you can now create a professional digital business card that they can easily send or share.
Quickly share files
In addition, you'll be able to add special links, documents and images, making it easy to exchange information. These features make the digital business card a powerful and efficient solution that you can use with all your contacts.
Exchange contact details online at any time
At any time share business card online in chats, via email signature, website, social media profiles.
No extra app needed to create
Neither a separate app is needed to create the business card, nor to share it. All you need is your smartphone.
The digital business card on the smartphone - All in One solution
The digital business card is a digital profile. It is precisely this digital profile that you have on your cell phone and thus always with you.
On the digital profile you will find all your relevant contact information:
Name

Your photo

The phone numbers

The email address

The address

All links to social media channels

Image and audio files

Presentations

Flyer

Events

Online meetings
So it's not just any digital profile, it's YOUR digital profile. You can edit it in many different ways, of course all easily and quickly on your cell phone.
The digital business card on the cell phone - All functions
The digital business card on your cell phone offers all the possibilities that a paper business card offers and so much more. With the help of your cell phone, you can easily share your digital business card and all your relevant information as follows:
Business cards Accessible via the profile link
The link of your digital profile can be easily copied. To do this, simply click on "Share link" on your digital profile and copy your profile link. Now you can share your profile via link in many ways, be it via email, WhatsApp message or as a post on LinkedIn.
Use QR codes as mobile lock screen
On your digital profile you will find the "QR background" button. Click there, choose a suitable background image and download it.
Then you just need to set the image as background and you will have your own QR code background on your phone as spear screen. To share your profile, all your counterpart has to do is scan the QR code.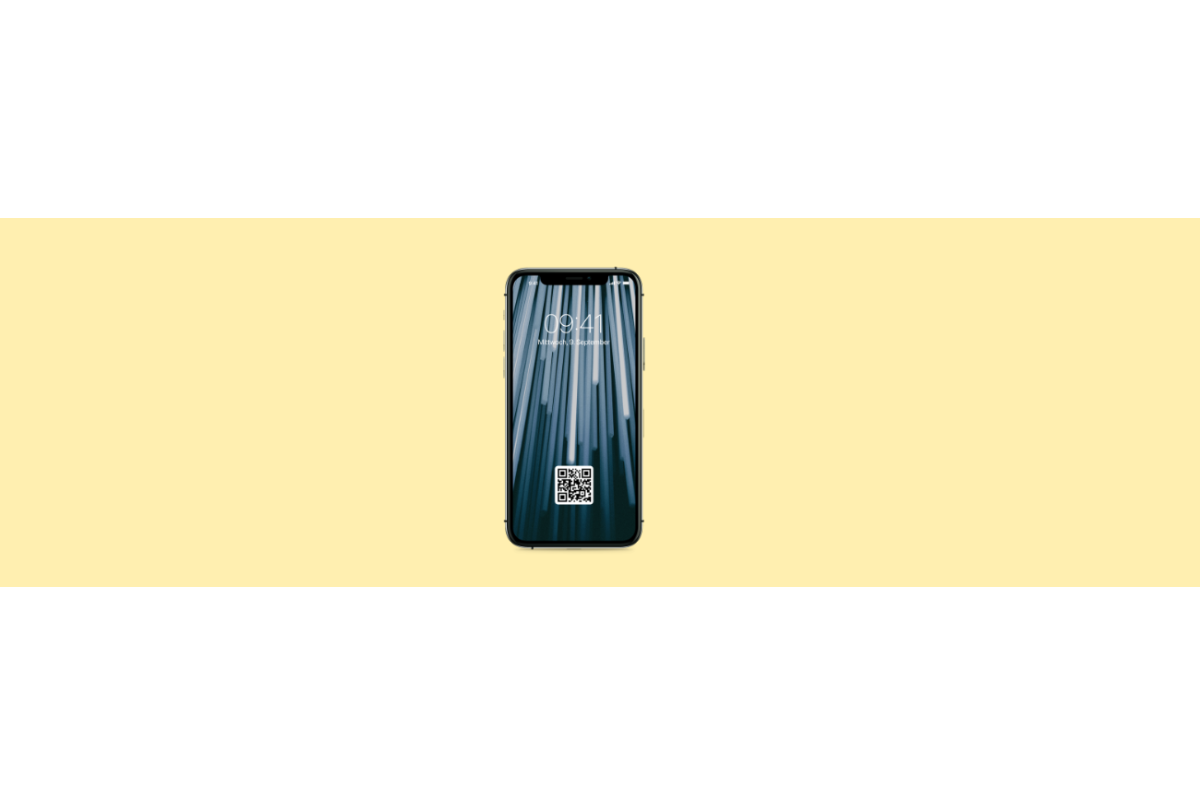 Create business card in a few minutes
At Lemontaps you create your business card for free through our freetrial. All you need is your email address and you can create your own online profile, add your contact information and design your business card. Do you already have all the necessary contact information and your profile picture ready, because this is one of the most important information.
Networks
Of course, you should have the links to your networks like LinkedIn, Xinq and to your social profiles ready. At Lemontaps, you will benefit from the background templates that you are simply free to use.
Own image files
If you prefer your own image files, this is no problem either, just upload your desired images.
Highlight advantages
For your future clients, feel free to share more information about products, special benefits that your counterpart can enjoy when working with you.
Download QR code
In your Lemontaps profile you will see your QR code, which you can download at any time.
Share your digital business card as QR code
You see, even without one of our NFC business cards, you have ways to share your contact information. It can always happen that you forgot your NFC business card at home or have it in another wallet.
Independence
But you very rarely forget your cell phone these days. And so even if you forget your NFC business card, you always have your business card with you, as a digital business card on your cell phone. Modern networking means being independent of space and time.
Your counterpart does not need to be logged in to Lemontaps to save your contact.
Tap the contact information using the NFC business card.
With modern technologies like Near Field Communication (NFC), you can also scan their contacts on modern devices like smartphones and tablets to quickly and easily exchange contact information.
You don't want to just show the QR code, but use your business card as a physical medium? Then the NFC business cards with your company's corporate design are a good choice.
The NFC chip, which is connected to the card with vegetable glue, enables a fast contact data exchange. Decide in our store for a NFC business card and professionalize your contacting at next events, like fairs or congresses.
Our conclusion: Networking with the smartphone
Our blog post has shown you that it is simple and easy to optimize networking with other people with an electronic business card. It's also inexpensive, and in just a few minutes your business card is self-made.
Help?
You don't need any help with the creation, because the steps are explained. If you still have questions, contact our 24/7 chat service.
Subscribe to newsletter
Feel free to subscribe to our newsletter to never miss an update on our latest features and stay in touch with us. Follow us on social media and let us know how we can help you.
Create business card
Take the opportunity and create your digital business card including QR code now to get started right away!