In the digital world, visibility is a crucial factor for the success of a business. This means that companies need to build a strong online presence to attract new customers and remain successful in the long term. A strong presence includes an offline and online tool that allows you to network with new customers and business partners.
The medium of the digital business card helps you to establish contacts professionally. Are you afraid of losing track of your employees' business cards or don't want to edit them manually for 100 employees individually? We have the perfect solution for that.
All advantages for your company
A digital business card is an online version of your traditional paper card, only much more interactive. It's a short, concise way to give people your contact information and information important to you so they can reach you later. A vCard makes a very important connection between business people and potential customers.
The information on a business card is usually name, company, address, phone number and email address. We at Lemontaps additionally offer the possibility to include links, attach files or videos or even generate a QR code. Many interesting features like designing according to corporate identity specifications are possible.
Based on these 30 advantages you should create and test a digital business card yourself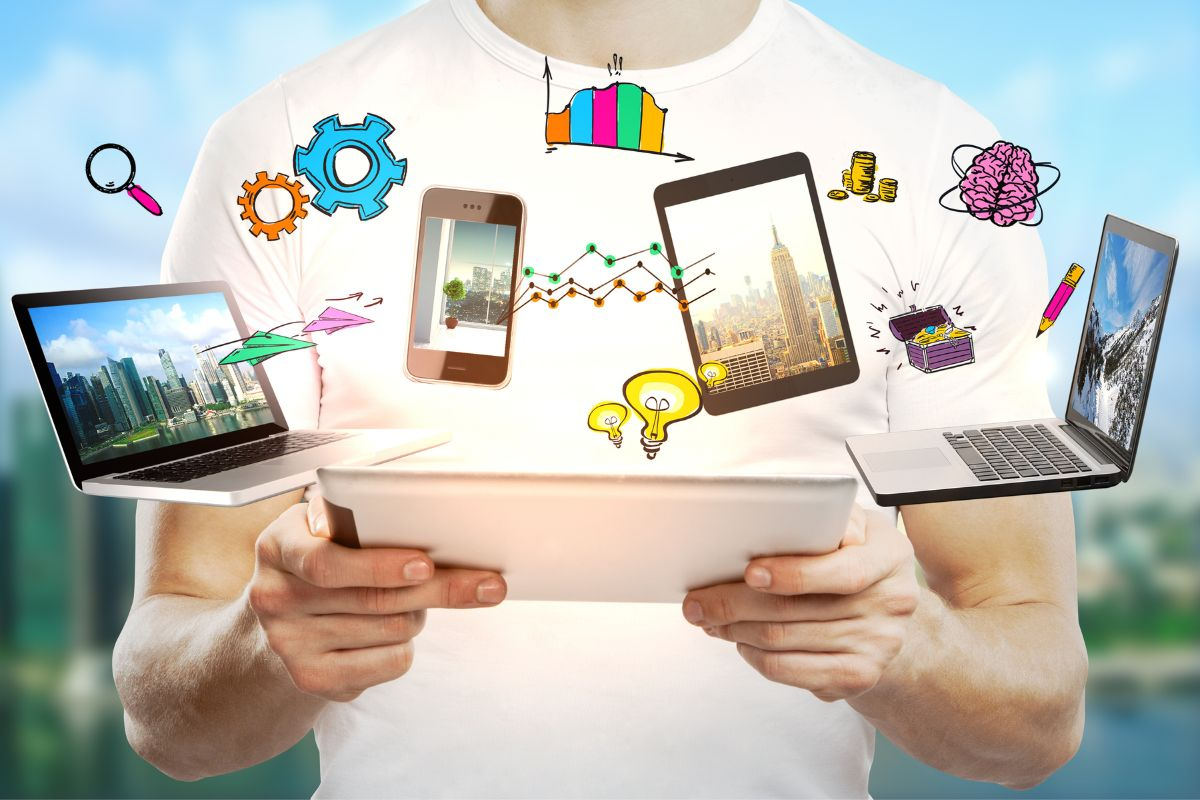 Easy access
With a digital business card, you always have your contact information at hand and no longer have to search for a piece of paper. On your smartphone, you simply paste your QR code for it and the other person scans the code and can immediately add them to their mobile contact list or add them to your Lemontaps Wallet.
Greater visibility
A digital business card is much more visible than a traditional business card and can be easily shared with others. Via QR code, NFC technology or link, you share your most important data in seconds and is stored in the smartphone of your counterpart.
Lemontaps digital business card offers two ways to network. No matter which option you use, you can be sure that the method is reliable and effective. Share all relevant contact information either with the QR code or with the help of NFC technology.
The true added value of the business card goes beyond just scanning QR codes. The ability to upload files such as photos, presentations, flyers or texts to the digital business card makes it a unique and perfect tool for networking. 
Time saving
You no longer have to spend a lot of time searching for your business cards or printing them yourself. Individuals can easily and quickly share their contact information with another person by using a digital business card. Business customers can not only network but also strengthen their brand and stand out from the competition by using a digital business card. 
Digital business cards are a great way to present yourself and your company. You can share them with people you meet and send them in at events, even at Zoom meetings, the Qr code can be displayed, but most importantly you can email your professional details and can be linked to other digital content such as websites, social media profiles and online portfolios.
Is sustainable
The idea behind the digital business card is mainly that it is environmentally friendly and easily scalable for companies. For example, with the help of Lemontaps' central management board, you can handle all profiles for your employees. This saves paper and time, because you can update employee profiles instantly.
Recyclable material
By creating digital business cards that are made from recyclable material, you can ensure that your business cards are sustainable. Lemontaps offers NFC cards made of wood, metal, plastic and pure digital.
Minimize CO2 footprint
The environment is a very sensitive topic these days, and more and more people are becoming aware of it. An important advantage of the digital business card: companies can minimize their CO2 footprint and thus make their contribution to environmental protection.
Save paper
By using a digital business card, you no longer waste paper. Since no paper is used, the production of a digital business card is environmentally friendly and saves our earth's resources.
Classic paper business cards end up in the trash more often these days. Either they are thrown away by the recipient, or you have to change your contact details and thus have new business cards made again and again. By creating a digital business card, you avoid unnecessary paper waste and thus benefit the environment.
Become sustainable and environmentally friendly together with your company. A digital business card with NFC technology and the QR code is the only business card you need for this.
Suitable for social networks
Many social networks allow you to display your contact details in your profile. This makes it easy for you to contact others online as well. The advantages of a digital business card are many. You can also share your digital business card on social networks like LinkedIn or Xing. 
Another great thing about the digital business card is that it can be easily shared on other platforms. So if you need to write a blog post or post on social media, it can be very helpful to provide your contact information right in the post/post. This way, everyone can find your contact details quickly - without having to search for them for a long time!
Customizable
You can easily design a digital business card with your logo or a personal image to show your own personal style.
Always up to date
By using a digital business card, your contact information is always up to date and you don't have to have new business cards printed when your contact information changes.
Digital business cards are a great way to give people your contact information without having to carry around a whole bunch of business cards. You can easily customize and update them as your contact information changes. On top of that, you don't have to print new employee cards. Above all, this saves time and resources.
Inexpensive
Producing a digital business card is usually less expensive than producing a traditional card.
Flexible
A digital vCard can be easily customized, for example with different languages or designs for different target groups.
Usable everywhere
You can display them in your email signature or on your website, share via sms so your contact details are always at hand when you need them.
All contacts together on the Management Board
If not only you, but also your employees want to work with digital business cards, Lemontaps offers the perfect platform for this. The so-called Management Dashboard is the central point for all profiles and data.
Here admins can manage and edit the data of all employees. Add new profiles and delete old ones. All profile data, such as contact info, images, links and files can be found there. Central, clear and secure in one place.
With a business card management board, it's easy to customize your employees' information. You want a new logo on your employees' business cards? Then add it to several user profiles at once in a few seconds. An employee wants to change his/her profile picture?
Determine the rights
Then you can grant him/her the rights to do this yourself. As an entrepreneur, you determine which information can be changed by an employee.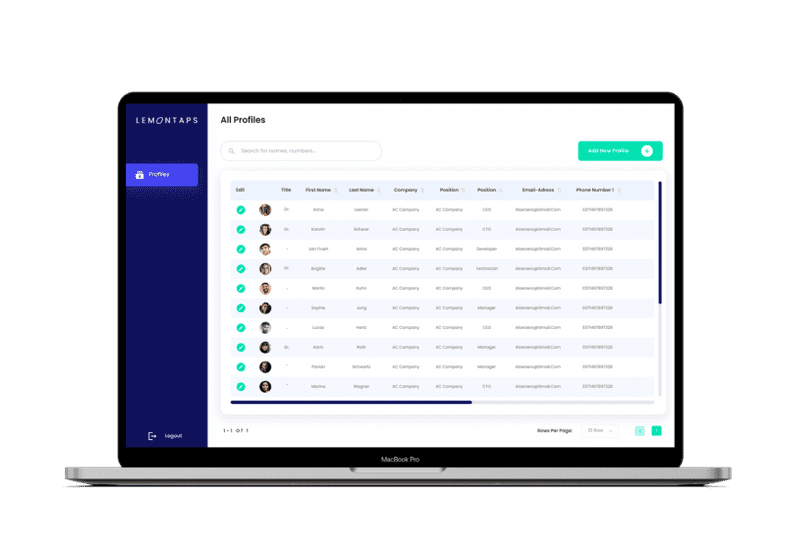 More memory
In our Pro version you can attach and link as many files as you like.
Generate more leads
The NFC business card makes it possible to directly provide potential customers with information and files about the company and its products or services. This way, customers can get an overview of your company much faster than with a conventional business card.
Thanks to the possibility of uploading files of any kind to your digital business card, you can leave a convincing impression on your next customer. By being able to present him all the important information about your company with the help of the digital business card, you significantly increase your chance to convince him about your company or product.
In the e-mail program always automatically in the e-mail signature
In your newsletters or emails, you can easily link to your digital business card and no longer miss out on valuable new leads.
Can also be used in conjunction with an NFC business card
Lemontaps offers various NFC cards that allow you to easily network on the go. With the technology of near-field communication, you can reach your counterpart with a short distance and collect contact information.
vCards available without additional apps
All our business cards models are ready to use without any extra app. Lemontaps takes care of everything that happens in the background.
Particularly simple to distribute business card via instant messenger
Nowadays, messenger services such as Whatsapp or Telegram are increasingly used as a means of communication. Potential customers receive information via these and these can also be sent easily via QR code.
Digital business cards do not get lost
You have lost your smartphone? Your profile remains online and will not be lost. Instantly you can access your card on another device.
The digital business card can not be lost, because your data is permanently stored on a server. Thus, you always have your profile available and can send it immediately.
Use own corporate design
You have a special design in your company, which you use congruently? We implement all your wishes.
Host your own data on your own domain - no problem!
You prefer to host your data yourself through your domain? No problem with the business card solution from Lemontaps. The digital profiles can be accessed via your own domain. The own company can thereby convince with a sustainable presence.
Compatible with any device
You share your profile with any device, whether Android or iOS.
You will learn how much wood, water and Co2 you save
In your profile or in the profile of your employees, at any time you track the wonderful resources that you save
View traffic
You are curious how often a person visits your site? We provide you with this function as well without any problems.
Easier remarketing
Remarketing is an effective way to stay in touch with customers and encourage them to use your products or services again. The technology behind NFC-enabled business cards makes remarketing even easier and more effective.
Since the NFC business cards are in most cases read with a smartphone, the other person can directly store your contact information and directly access your files. This means that your contact information doesn't end up in the trash like with a traditional business card, but is actually saved. And once saved, it won't be deleted again so quickly!
Easy to use for advertising purposes
On LinkedIn you want to share your networking success for marketing purposes, why not create a review of what you have already accomplished. Use your business card in the newsletter and draw attention to yourself.
With Lemontaps you get a 24/ 7 servicefor any question open
Write us anytime what you want to know or where you need help. Do you need tips in creating your business card, you get them from us!
Smart impression
You leave a professional and modern impression. Feel free to make customers or future business partners curious.
With one click in the smartphone
You land in the address book of your counterpart with one click.
Security of your data
Lemontaps is ISO certified and uses state of the art cybersecurity methods
Build positive relationships
You have your own profile that combines your content and networks, contact details and makes them available in a straightforward overview. Every encounter becomes something unique where you stay relevant.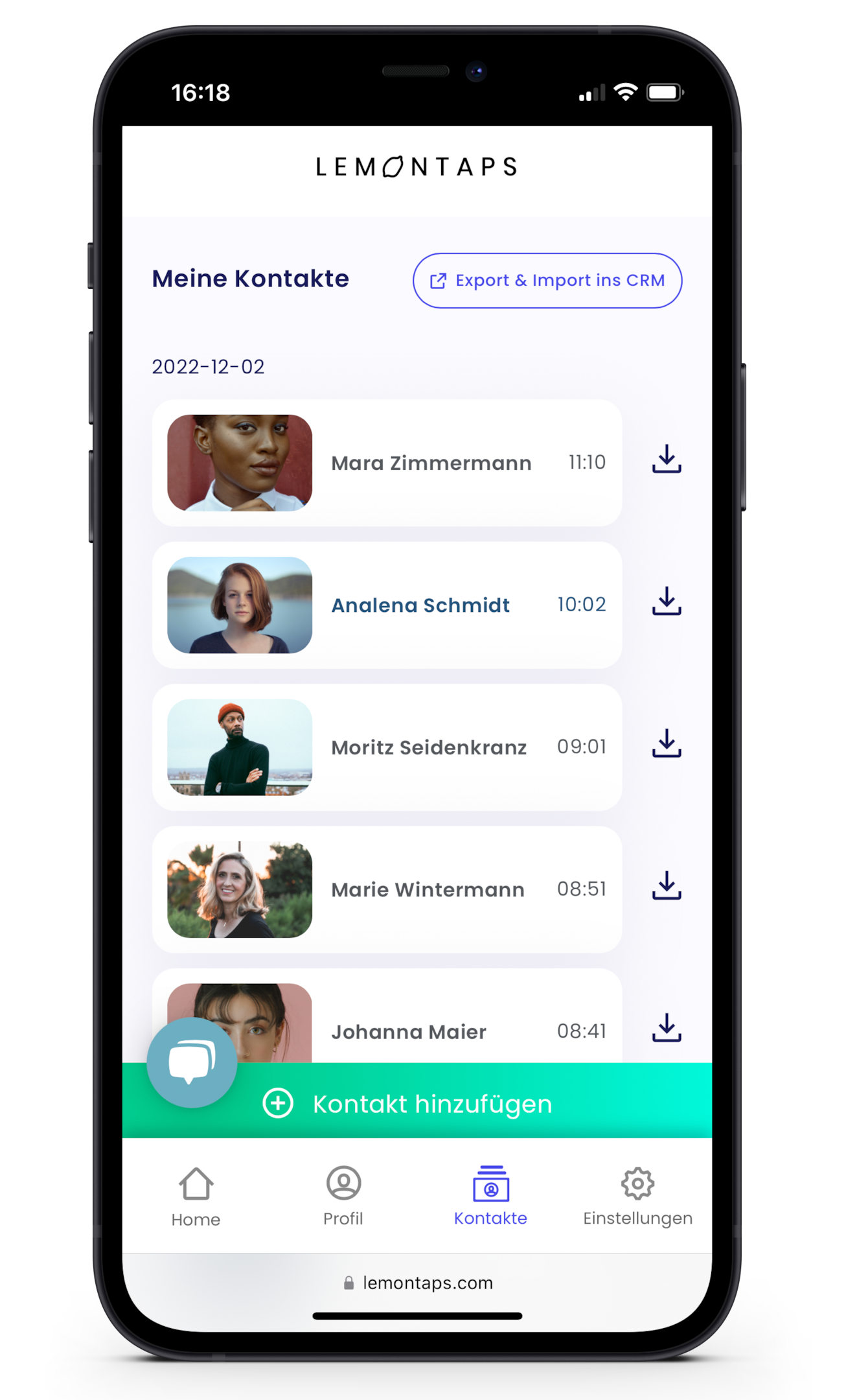 Tips for creating advertising with vCard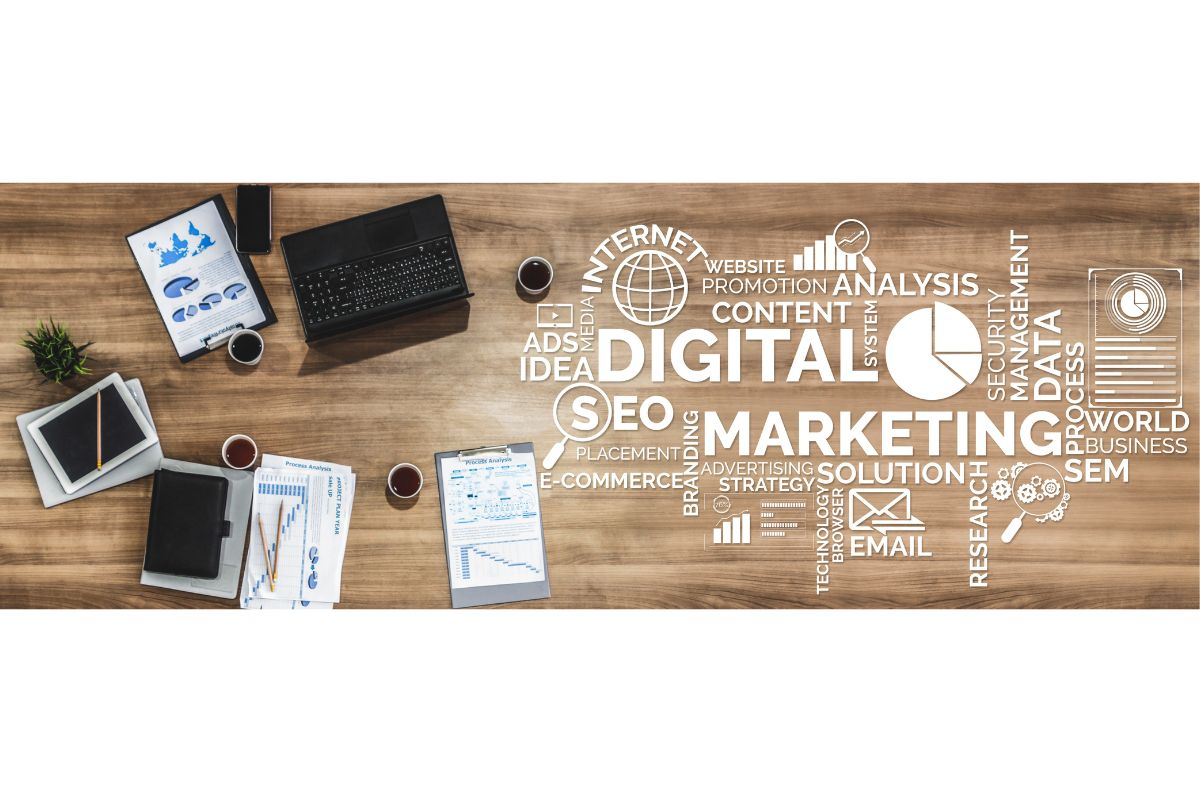 Fair & Co.
Are you going to be at an exhibition, trade show or major convention soon? Plan to attract attention for it via offline print advertising as well. Be sure to print your QR code on the poster, flyer or even share via online media. You can use our management board to see exactly how many people have scanned you and increase your visibility.
Also remember to link your social media profiles, that can skyrocket your follower count.
Raffle
Your company is planning a big competition and wants to generate new leads? No problem, in your digital business card, you can insert a link to the sweepstakes, where new potential customers can sign up with email address.
Newsletter advertising
You have developed a new product or a new feature for your customers? Write new benefits and all information about the innovations in a newsletter. Your customers will be very happy about it and use it. Also in the newsletter you can include a link or your QR code.
Digital business card now: start trial subscription
Test 30 days for free and convince yourself of the features - super fair and you take no risks.
Our conclusion about the online business card
The use of digital business cards is a good investment for any company, as it adds value to the customer and at the same time promotes the visibility of the company.
The digital business card offers customers the opportunity to obtain all important contact data and information about a person or company at a glance. If you have any questions, please contact our customer service. We will be happy to assist you in creating your digital business card.