In this article, we will highlight some of the possibilities that a company can open up by using its digital business card intelligently. Equipping your own employees with digital business cards is the first step and how can you make more business contacts?
In this post, we'll show you how to use your digital business card in your business in a targeted and smart way.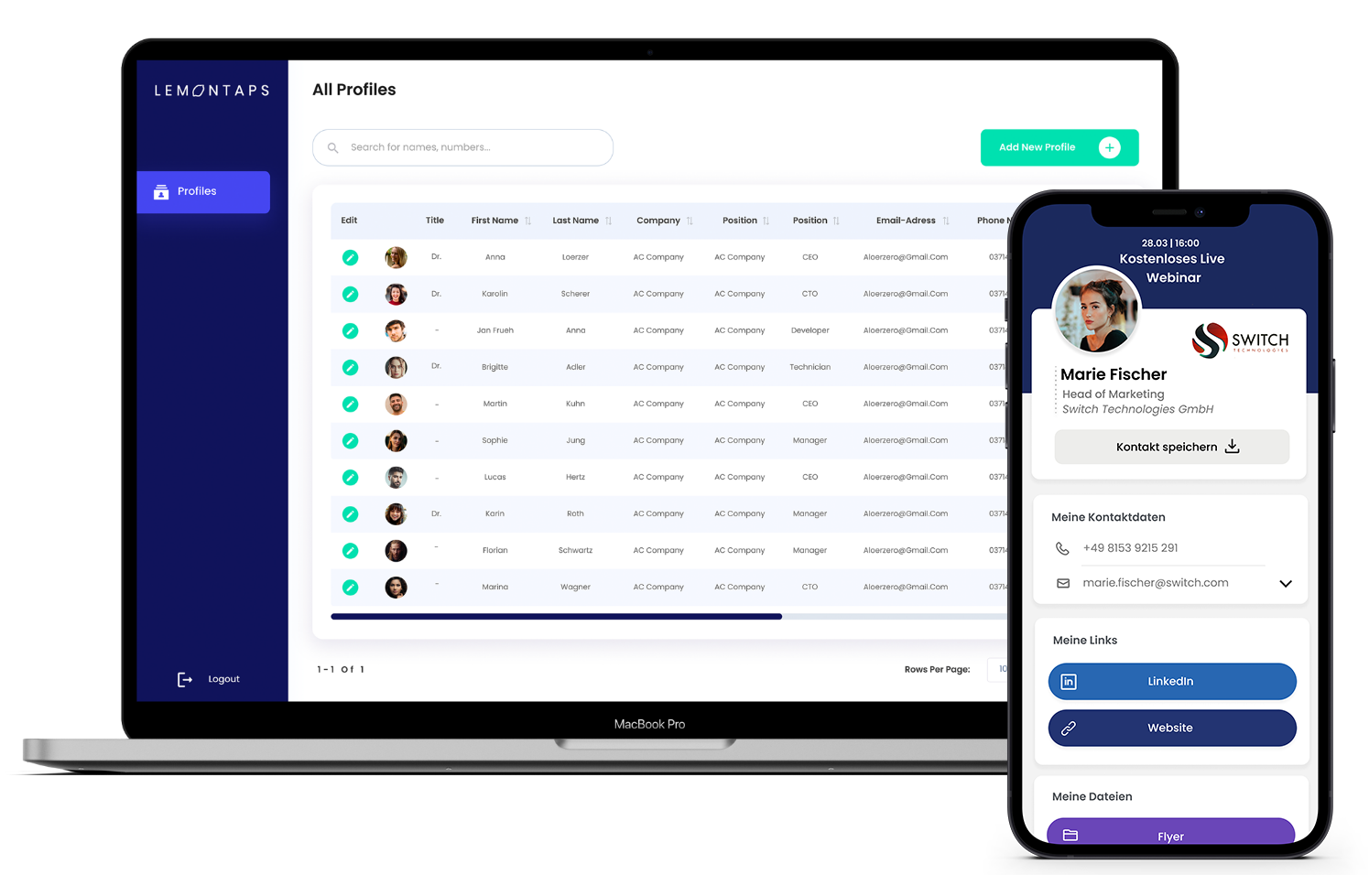 Digital business card and management platform
Your company has more than 10 employees and you want to do without paper in the future and thus save valuable resources? The Lemontaps management platform is exactly the tool you need. Easily add new employee profiles or delete outdated profiles. All data of all employees can be managed here.
Manage profile data clearly
All profile data such as contact information, pictures, links to social networks and files such as flyers, presentations or even music. All this data is stored centrally in one place, clearly arranged and uncomplicated.
Make changes immediately
Update the current logo for 10,000 employees with just one click, saving valuable time.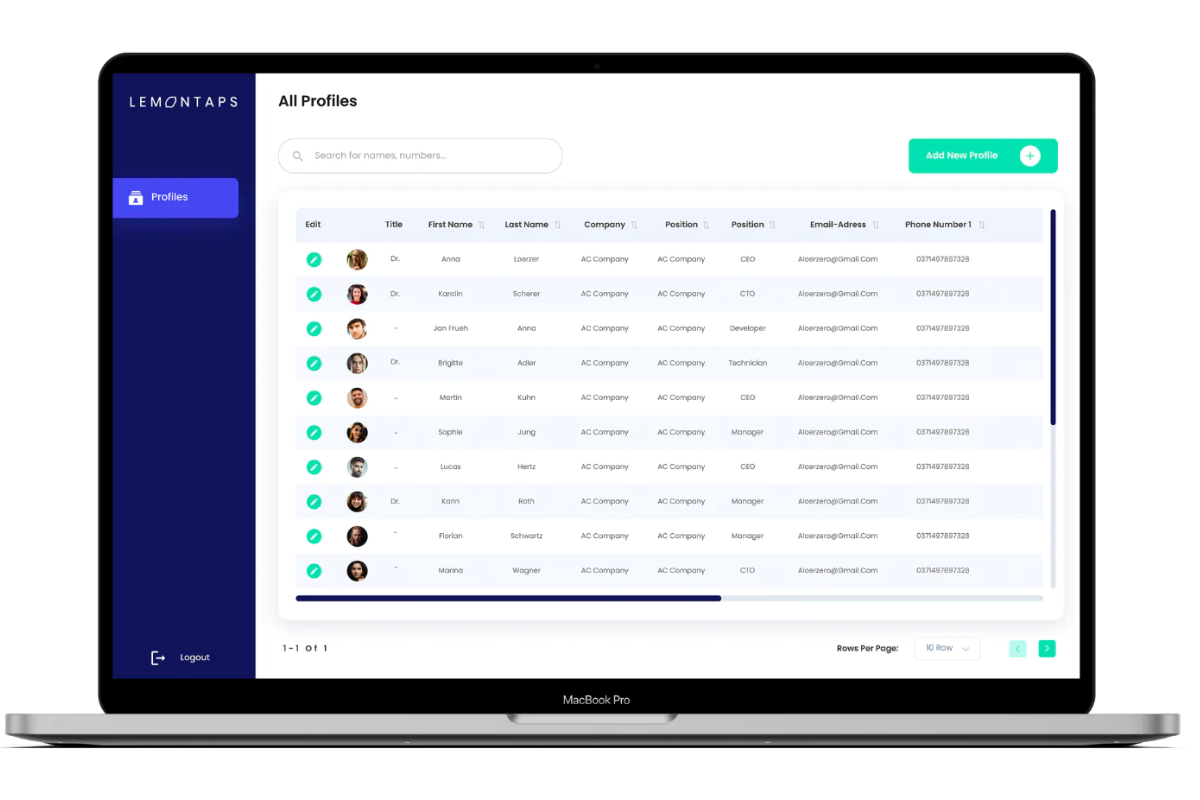 Create digital business card - easy to realize for companies
If you opt for digital business cards as a company, it's just as simple and straightforward as creating a business card as an individual. You want to do something good for your team and save them from paper business cards - good idea! Because today, people exchange contact information without paper. The modern way is paved by the digital business card.
Create business card for company
Conversation
Here we talk to you. You describe your personal ideas. We will then make you an individual offer. Get all the information about the design, templates, link possibilities and how to exchange contact information with business partners.
Individualization of the digital business card
Now your profile will be designed, of course completely according to your ideas. Your profile information is uploaded. Your personal data management is set up and you as a customer contribute your ideas.
Individualization of the NFC business cards
The next step is to produce the NFC business cards. Of course, the NFC business cards are also designed according to your ideas.
NFC business cards for the employees
Once the NFC business cards have been produced and have reached your employees, you're ready to go. Your employees can now connect their digital profiles to the NFC business cards.
How is the NFC chip built into the NFC business card?
The NFC chip embedded in the digital business card is the key component for interaction between the physical business card and the contacts' mobile devices.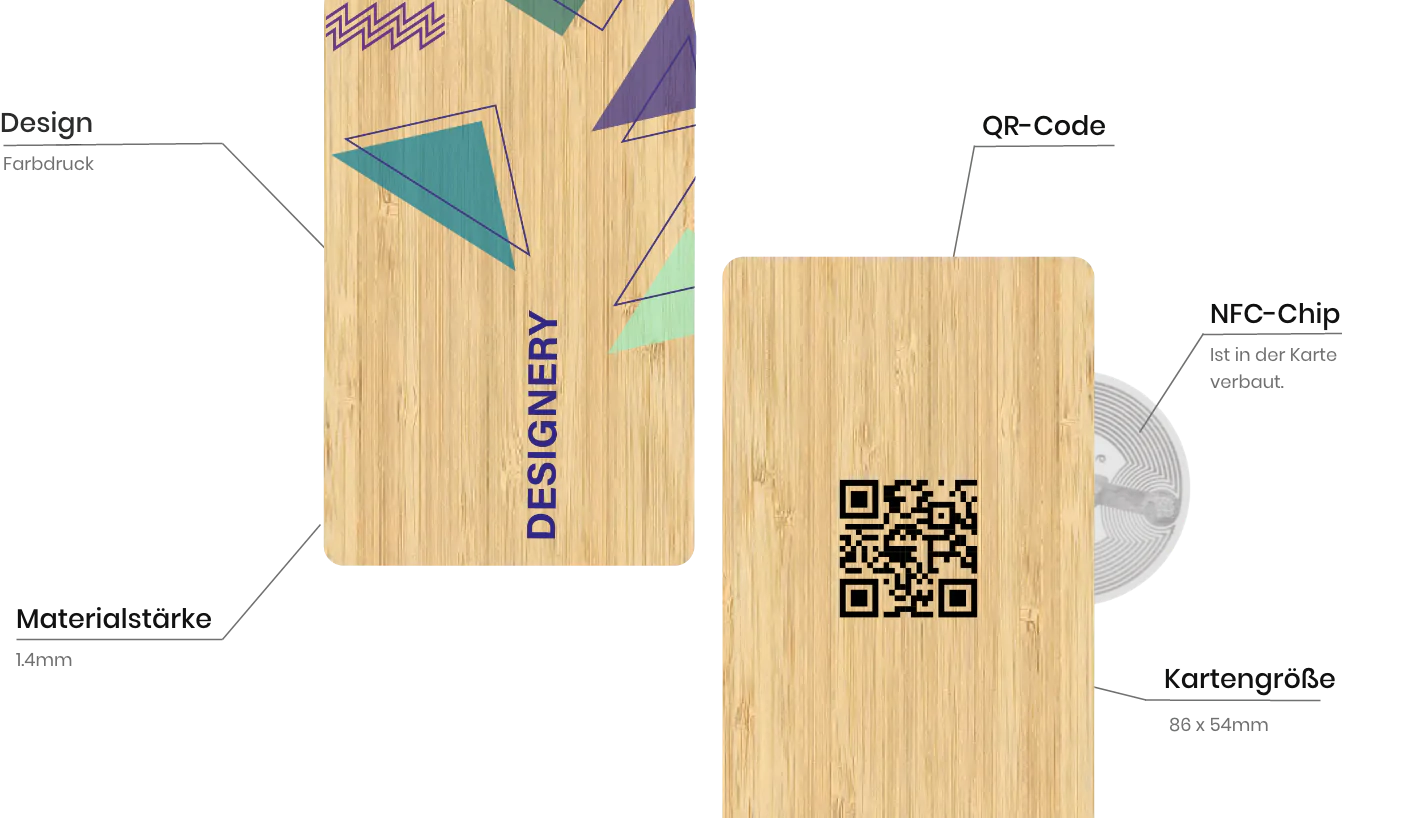 We at Lemontaps make sure that the chip is connected to the card with a vegetable glue.
Create Digital NFC Business Cards - Fully Customized
With us you have the possibility to create digital business cards, which are individually tailored to them, your company and your employees. The digital business cards are created according to your corporate design and your ideas. Also the models of the NFC business cards are freely selectable and designable according to your wishes font, color, back like front, logo, company name and material.
Business cards models
You can find our different NFC business card models in our store. If you still have questions about the management platform after the first conversation, you will find all the answers in our help center. 24/7 we are available for you.
Advantages of the digital business card for your company
Cost effective and efficient
The digital business card is a cost-effective and efficient solution to ensure that your business is equipped for the future. With this modern business card you can combine all important contact information such as name, title, business address, phone number and email address as well as a photo in a single document.
Adapt to the modern professional world
This allows you to make a professional impression on your business partners without spending a lot of effort. Unlike traditional business cards, digital business cards can be emailed faster and more efficiently, saving time and money. There's also no need to rely on printed business cards anymore. You can simply create a PDF document and send it as an attachment.
Successful appearance
It is also possible to include links to your website or social media pages in the business card to keep your audience updated. With the digital business card, you can also create a digital signature that includes your contact details and profile picture. This allows you to easily insert your contact information into emails or other documents without having to rewrite all the text. 
With this digital business card, you can ensure that your company remains visible in the digital age.
Use QR code cleverly
You are at a trade show as a team or alone as an employee and aim to exchange business cards. Via smartphone or NFC business card you can easily reach new customers and partners with whom you share your contact details. The types of QR code use are manifold.
Business Cards at trade fairs
Give a company presentation at the trade fair, introduce your industry and have an exciting topic on your slides. Then be sure to include your digital business card as a QR code in the presentation slides and listeners, if interested, will tap your profile.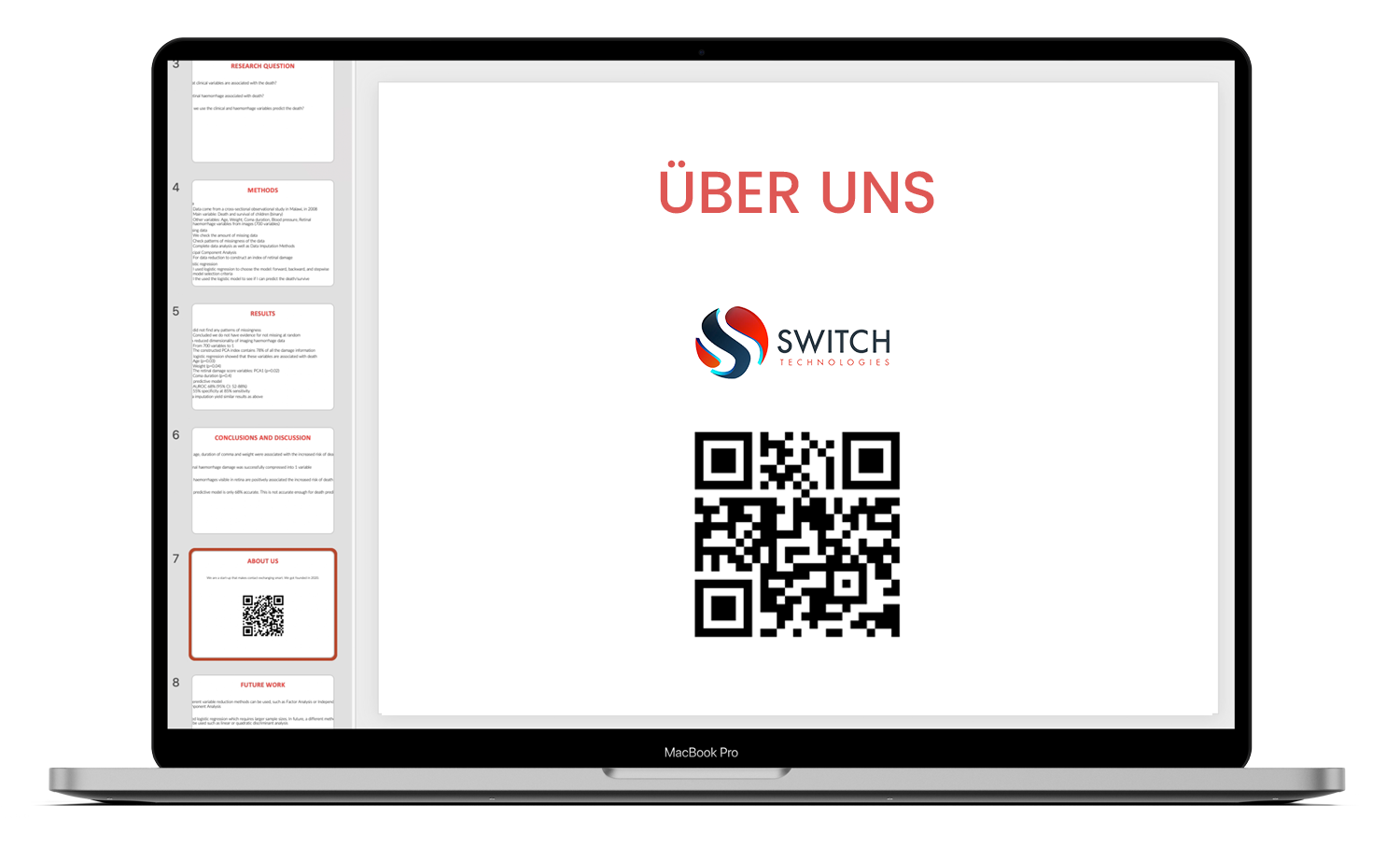 Project your QR code on the beamer at the trade fair stand and thus collect valuable contacts.
Every little thing, you can adjust simultaneously, although your employee:in is already on the road at a conference, she can share via QR code, the data that was just changed in the HR department. Also, colleagues can make the changes themselves, no matter from which device.
Use NFC technology as a company for communication
With the so-called technology of near field communication, each:r of your employees:in can tap many business contacts with just one card and add them to your profile. Paper business cards are no longer necessary.
Make an impression at a business meeting
Your employees have their current digital profile available at all times, no matter where they are. With this technology, companies can easily provide customers and business partners with information such as contact details, products and services, websites, logos, photos and other content.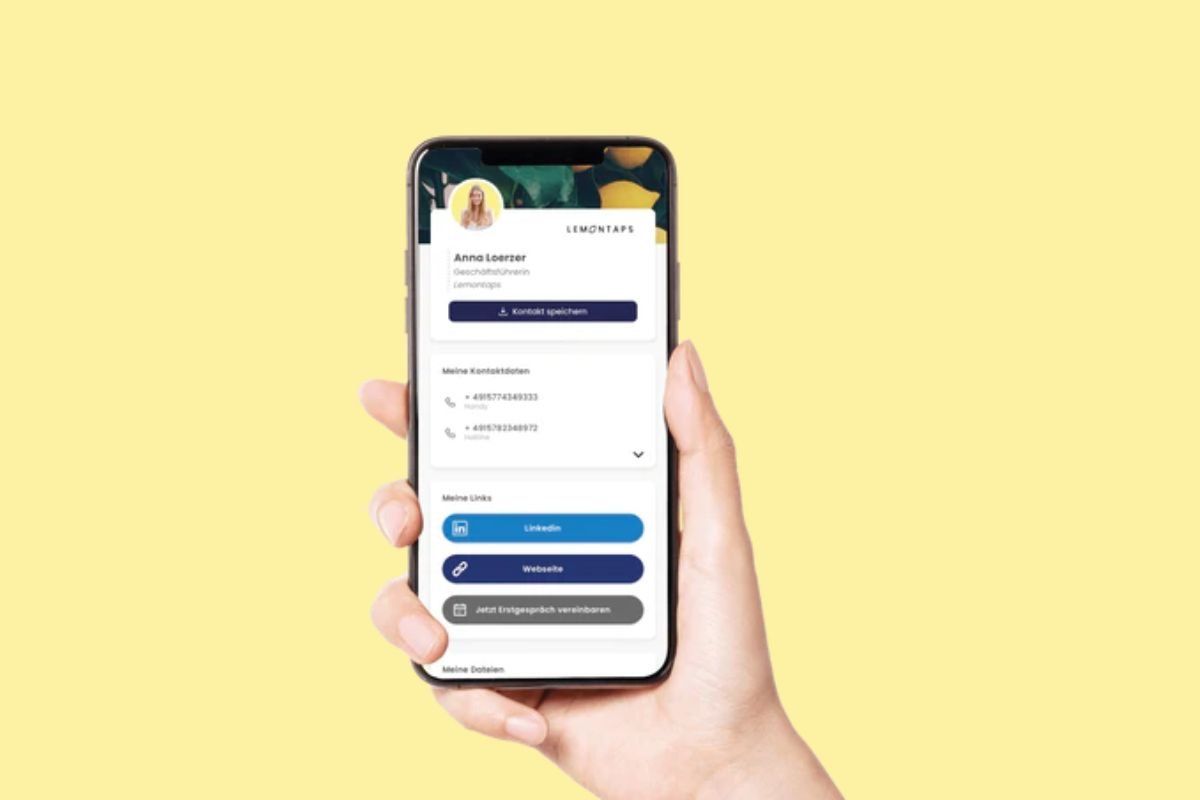 Send services quickly with NFC
This information can be stored on an NFC-enabled business card in the form of a QR code that can be scanned simply by holding the smartphone up to the business card. With this technology, companies can quickly and easily communicate relevant data to their customers and business partners and simplify the communication process.
With this we have given a first insight into the possibilities of the digital business card for companies. We hope that you were able to find many helpful suggestions for your company. The management platform will make your everyday work much easier for your employees who want to make valuable business contacts.