Which technologies make the modern business card possible?
Nfc
One of the most important technological factors that make it possible to create digital business cards is the so-called Near Field Communication (NFC) standard. This technology allows two devices to communicate with each other at a short distance by exchanging data via short-duration radio frequencies.
This allows a user to accept or exchange a digital business card by holding an NFC-enabled device, such as a smartphone, near the other device.
Html and Co.
The first step is to ensure that the business card is available everywhere and on every device, whether it's a smartphone or a PC. This can be achieved using various technologies such as HTML5, CSS3, JavaScript and web frameworks. At Lemontaps, we already have everything you need to create your modern digital business card.
Privacy and security
In addition, data protection and data security must also be taken into account. This can be achieved by using various security programs and technologies such as Encryption and Security Tokens. Lemontaps pays special attention to the protection of your personal data. For this reason, we use state-of-the-art cybersecurity and brute force protection measures.
Business cards set trends
Want stylish business cards that keep up with the times or are even a bit ahead of their time? Use the digital possibilities for your design and do without paper business cards that end up in the trash can.
Sustainable products
The trend is of course sustainable products, like our sustainable wood NFC card, which you can print and customize just as creatively as the other cards.
Colors adapted to your corporate design
With the digital business card you are a pioneer for sustainable networking. Your business card should be colorfully related to your company. What is your topic, your industry and especially your product?
Recognition value
Customers want to recognize you and your brand, so use images and colors from your website. Which font do you have anchored in your corporate design? Are there certain design elements which you have used so far? As a rule, the modern business card offers space for your profile picture, your background image, contact details and links.
Link videos
Share videos about you with your business community. Arouse their interest and you'll be remembered.
Evaluate traffic
With paper business cards you cannot evaluate how many people have visited your profile, this is only possible with a modern digital business card.
Preserve corporate identity with the business card design
Another advantage of the digital business card is the integration of your own corporate identity.
Front and back of NFC cards customizable
You have the possibility to design the NFC business cards according to your wishes. No matter which color, which logo or which design or whether on the front or back, we design your NFC business card according to your ideas.
You can also freely design your digital business card according to your wishes and ideas.
Management platform
With the management platform, you also have the option to run everything via your own domain. This reflects the corporate identity of you or your company offline and online.
Strong presence
Thus, from the first point of contact, when sharing your contact information, you can score with a strong presence and thus leave a significant overall impression and stay in the back of your counterpart's mind.
Ideas around the creation of a digital business cards
Designing a digital business card is just as important as designing a traditional business card. A beautiful and professional design that represents your brand will help you be remembered. Start with a professional logo and incorporate your name, contact information, web address, image and skills into the design.
If you add a QR code to your business card, you have the option to link to the card, for example to link to your website, LinkedIn profile or blog. If you want to have a photo on your business card, make sure it is a professional, well-lit and high-contrast photo.
Never use a photo where you don't look very friendly. Remember that your business card is your first impression to a potential client.
More tips
Choose the files you link to carefully. Make sure that these files are also provided with your logo and that you use your company font in terms of typography. Consistency in the design of your internal and external communication is a sign of quality.
Text
Make sure you keep the files short and informative- PdF files that can be downloaded from their digital profile should depict your offerings in an understandable way.
Colors
With the use of colors you achieve different effects on your counterpart. You should keep this in mind when creating and designing your business card.
Place
Enough storage space for your files, you can avail this with our Pro features.
Print
Each of our business cards can be printed on the front and back.
Templates
We at Lemontaps offer you various background templates like this one:
You determine the position of the QR code.
Video Call Template Example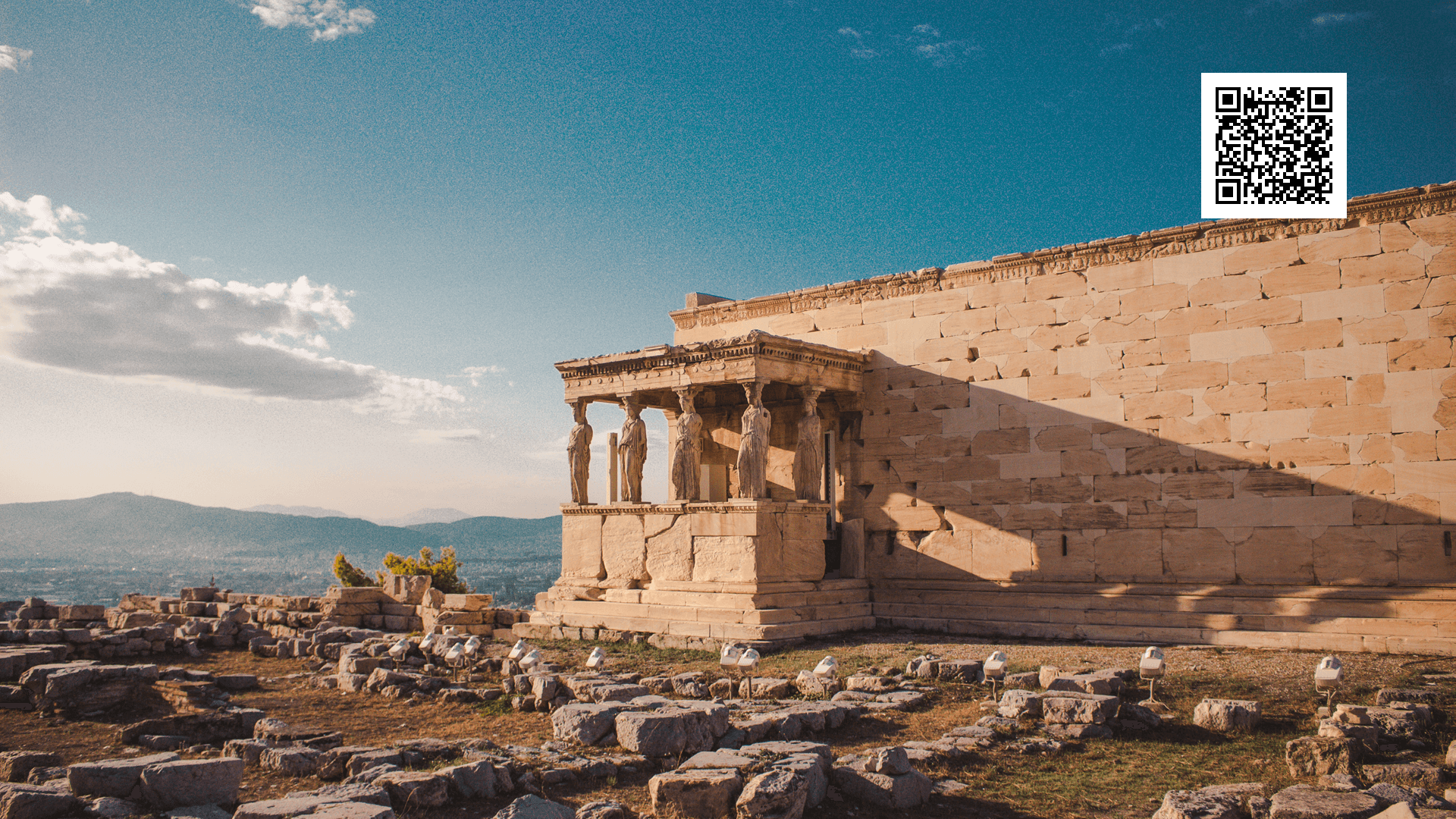 Smartphone Background Template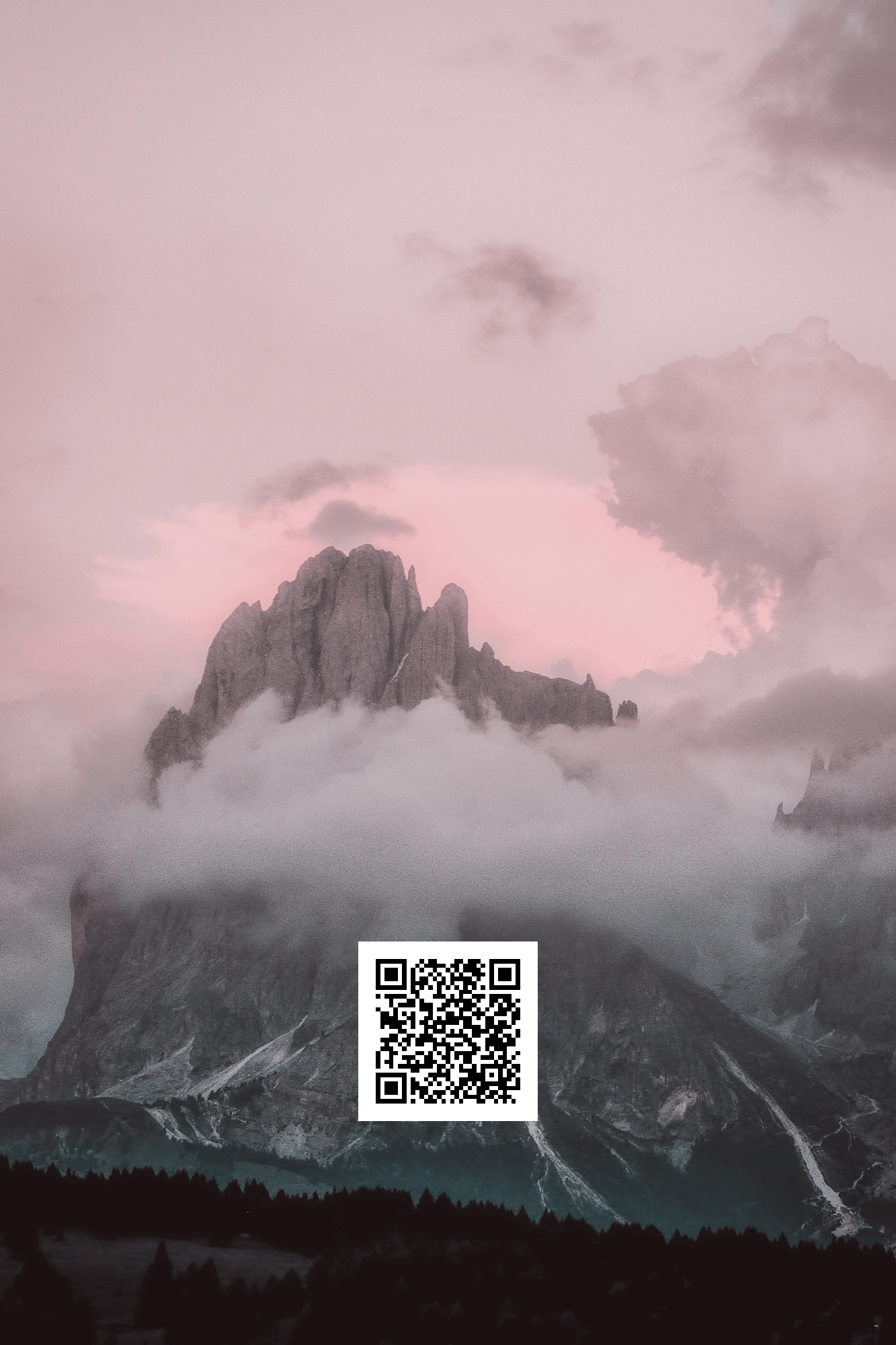 Why is a modern business card worthwhile in terms of cost-benefit?
Cost advantage of the modern business card
One business card costs on average around €0.06 for an order quantity of 500. So you pay about 30 € for 500 paper business cards. To cover these costs with the digital business card, you would have to share your digital business card with the personalized NFC business card, which costs around €30, 500 times.
If you decide to buy a Lemontaps NFC business card in our store, you would only have to use it just under 167 times to cover the costs. Here, the cost advantage of the digital business card becomes clear.
The digital business card can be used permanently. The 500 paper business cards are quickly gone and then it's back to spending €30 on new paper business cards.
Be a professional in time saving with the modern business card
The time required for a classic paper business card is often underestimated. The recurring procurement of paper business cards alone costs a lot of time.
But that's not all, because after obtaining the paper business cards, they also have to be labeled. Changing the information also costs a lot of time and again money.
When an e-mail address changes, you get a new position or a new cell phone number, you have to deal directly with new paper business cards. All this costs a lot of time and money and possibly also nerves.
All information such as your position in the company, your e-mail address or your cell phone number can be edited easily, conveniently and without much effort online in your digital profile of your digital business cards at any time.
Our customers save on administrative costs
Thanks to the management platform offered by Lemontaps, you also save on administrative costs, as you can easily and clearly manage and edit all the profiles and information of your employees in one place.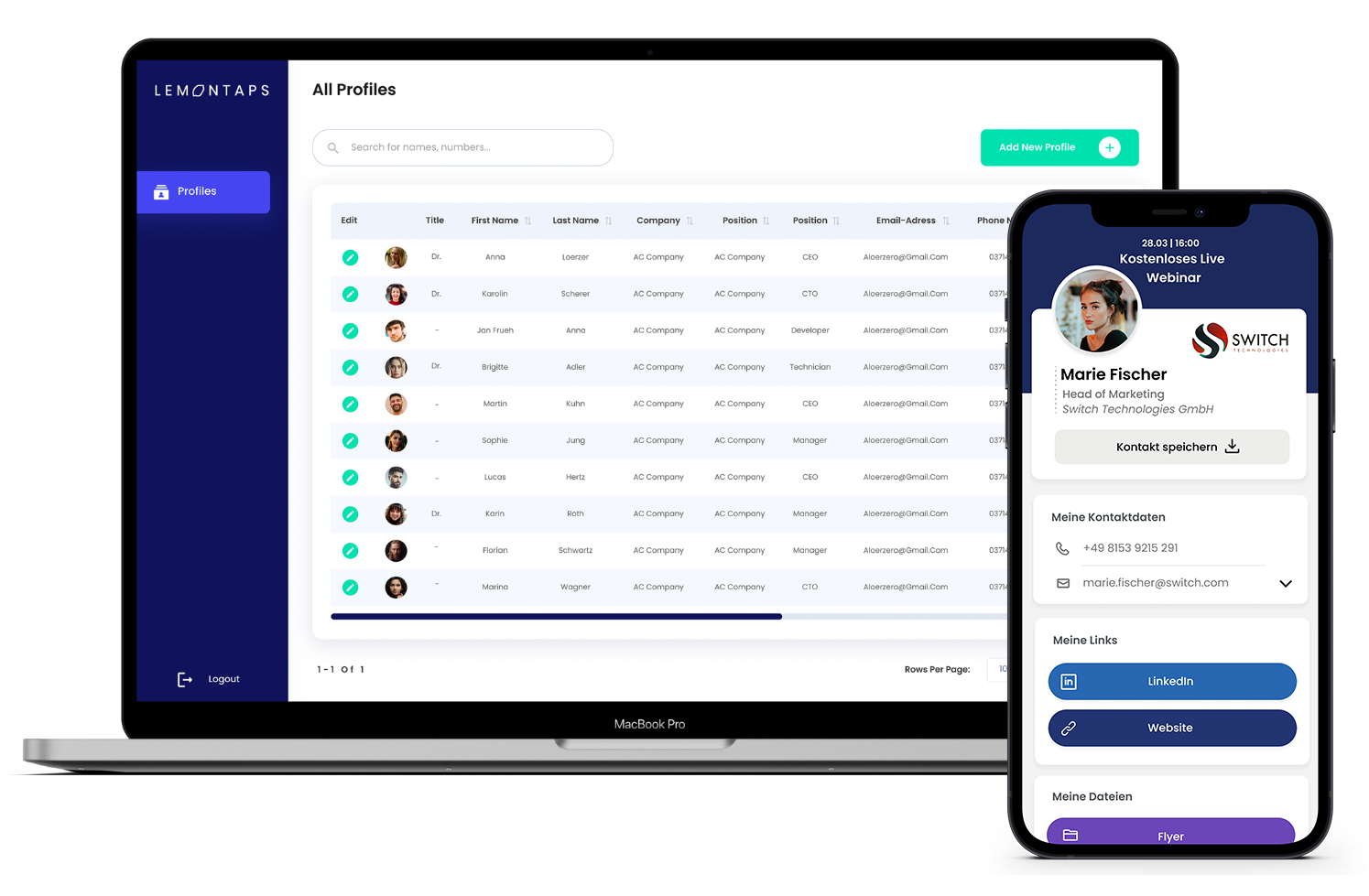 Benefit factor of the digital business cards
A person who has received a paper business card from you will, in most cases, forget about it in a few days, without having your contact information stored in it, should the design not be appealing. With the digital business card, it's a completely different story.
As a rule, 98% your counterpart saves your contact
When you scan the QR code or tap the NFC business card, your digital business card with your digital profile is opened directly on your counterpart's smartphone. The information of your digital profile is stored by your counterpart in 98% of the cases.
Modern and can be used at any time
This results in a much higher usage of digital business cards than paper business cards. The fact that the digital business card can also be shared digitally through an email signature, in online meetings and in online presentations plays a role in the high usage.
Modern business cards - Many advantages
Compared to the traditional paper business card, the digital business card has many advantages:
- Unlimited usage capacity
- Higher benefit factor
- Greater brand presence
- Easier sharing of contact information
- Reduced procurement and administration costs
- High time and cost savings
Why are modern business cards already ahead of your future?
In an increasingly digital world, many managers don't realize that they can already get a head start by choosing a modern business card. So why should you invest in a digital business card? First of all, a digital business card is much less stressful to use than a printed version. You can download it to your mobile device and take it with you wherever you go.
This gives you much more flexibility and allows you to respond to requests faster than trying to find and distribute a business card. You can also quickly and easily customize a digital business card to suit your needs, making it much more than just a business card exchange.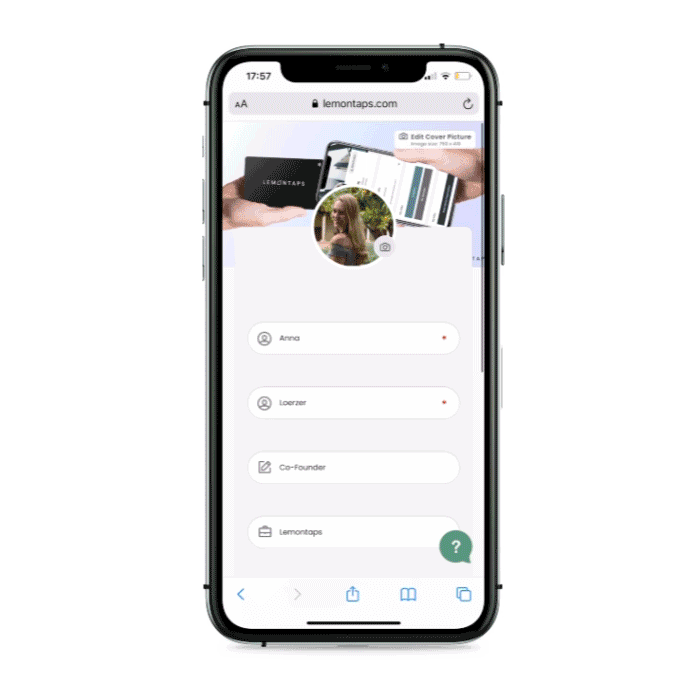 You can link your card to your website, point your customers to your social networks, add a logo, and much more. There are many ways to personalize your digital business card so that it looks unique and professional.
Moreover, a digital business card allows you to collect feedback so that you can provide a valuable experience to your customers. In short, a digital business card is an effective tool to grow your network and strengthen your brand.
The digital business card is much more interactive, up-to-date, faster and with a QR code that you insert everywhere in your documents and presentations, they are more than modern in your everyday professional life.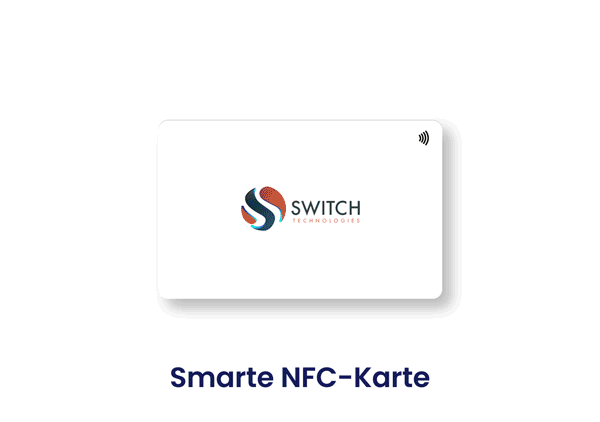 Make your own impression
Are you convinced? Then create your digital business card now for free and take a look at our sample NFC business card models in our store .
‍