Currently, many companies are turning to the home office, where costs are lower and more people can work without restrictions. While the switch to home office has been smooth in many companies, one important element has not yet been implemented in all of them : the digital business card.
This blog article will show you the functions and features that can make a digital business card a useful tool in the home office.
Discover how to digitally manage your contacts more efficiently, increase your brand awareness, and grow your network faster than ever before.
Home Office - An Overview
The home office has significantly changed business life and many companies are using digital platforms to communicate their contacts in a professional and concise manner.
While Corona
Working at home experienced a boom during the Corona period. But even now, two years after the start of the pandemic, home office is still a hot topic. The proportion of German employees working from home is still high today.
Home office share in figures
Although the legal obligation to work from home ended in March 2022, the percentage of people who continue to work at home was around 25%. This clearly shows that many employers continue to offer home office as an option.
In most cases, employees can choose which way of working they prefer. In the home office or a They choose a hybrid solution, working 2 days in the office and the remaining days at home.
The following article provides an overview of the benefits of working from home and why Lemontaps digital business card is the best tool for exchanging contacts in the home office.
Sustainability through home office
Nowadays, more and more people want to live sustainably and work to protect the environment. Working from home fits perfectly with the eco-friendly and sustainable lifestyle.
Savings through home office
After all, people who work in a home office do not have to drive to work, for example, and therefore cause significantly fewer CO2 emissions in their home office.
Co2 emission
Let's take CO2 emissions as an example. If just 10% of the workforce in Germany worked from home one day a week, this would lead to a saving of around 4.5 billion kilometers in commuting distance. This could save around 850 million kilograms of C02 per year.
At 20 percent, this would already be 1.7 billion kilograms. Energy consumption is particularly high in open-plan offices. Huge lighting systems and refrigerators are real energy guzzlers. This energy can be saved in the home office and thus benefits the environment.
Digital business card - THE tool for home office work
You're probably familiar with the situation. You're sitting in your home office, one digital meeting follows the next. In one meeting you are asked for your e-mail address, in another for your cell phone number, and in yet another for your address.
Solution digital business card
What do you do? You give this information to your counterpart one by one, over and over again when asked. Imagine a solution that solves this problem. A solution where all your important information is in one place and shareable.
Simplify socializing
This solution is the digital business card of Lemontaps. It is the best tool for networking in the home office. Nowadays, digital meetings via Zoom, Teams or Meet are an indispensable part of everyday work in the home office.
It is precisely in these meetings and in many other areas that the digital business card facilitates the exchange of contact information and also general work.
Digital business card with QR code - The all-rounder for professional contact exchange
After creating your digital business cards, they have the ability to share your digital profile with all your information, files and links via QR code.
With this Quick Response Code, you have many options to present and share your digital business card when you go online.
1. QR code as virtual background
Give your virtual background a new look by combining your virtual meeting background with the QR code that leads to your digital business card.
2. QR code in your email signature
Every email you send from now on will have a new unique look. Just add your QR code as an email signature and every email you send will make an impression.
3. QR code in video presentations
Also at your next video presentations, the QR code will accompany you. Discreetly in the background on the slides, at the bottom in a corner on the slides or only at the end on the last slides of the presentation, you decide.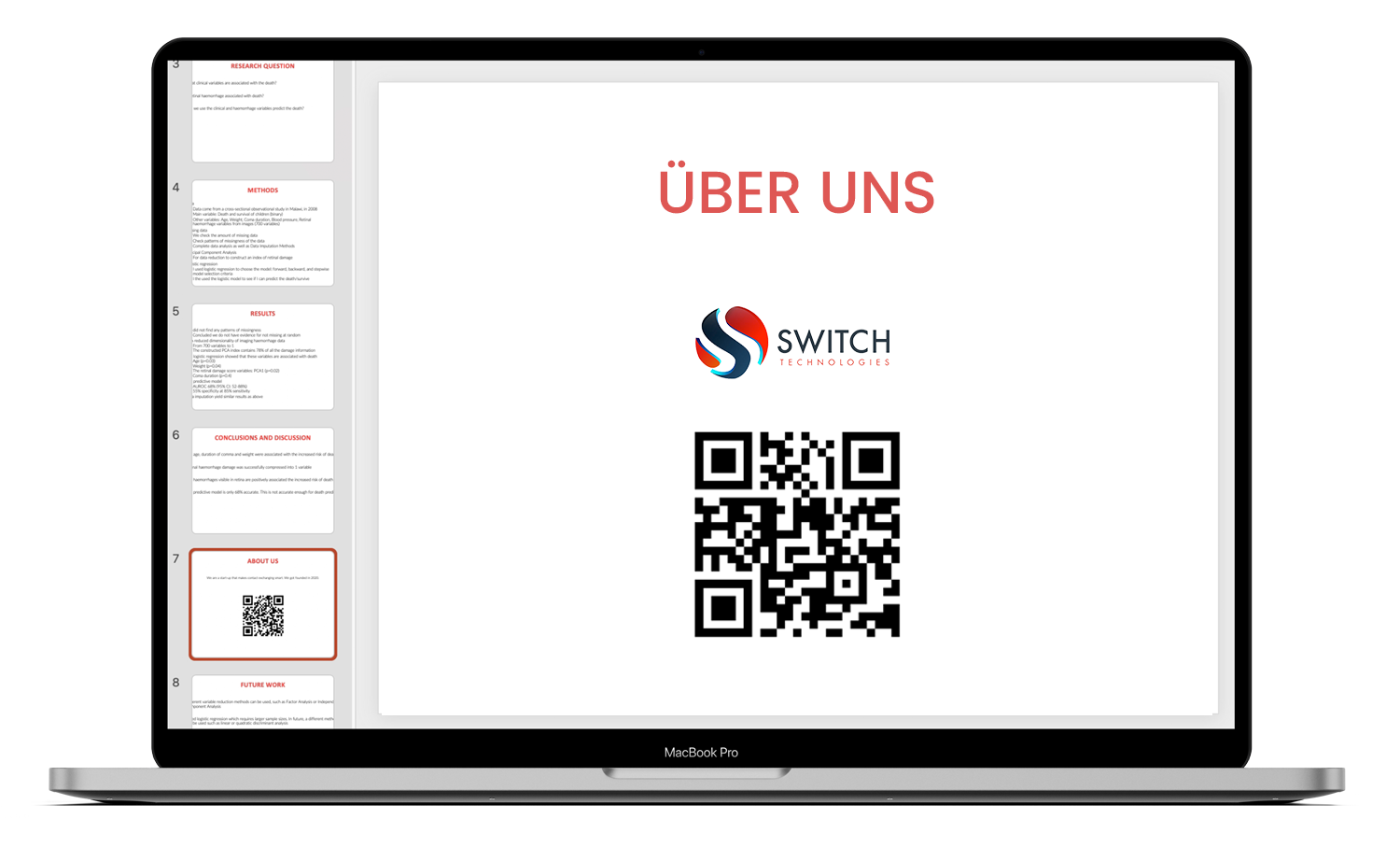 Here you can use the QR code not only for your contact information, but also for the presentation given, or store other files related to the presentation on your digital business card.
The digital business card with the QR code is your new companion and helper in the home office. It makes working and networking easier for you. Your emails, your meeting background and your presentations shine in new splendor and leave a lasting impression.
What contact information do I share when I work from home?
A digital business card is a brief summary of your contact information that you can include on your website or in your emails.
A digital business card is a very effective tool to present yourself to your customers and to ensure that you are easy to reach.
Data on your digital business card
A digital business card should include your name, email address, phone number, location, job title, website. This information is very important to your customers so they can contact you quickly if they have any questions or concerns. You can also add a profile picture of yourself to add a personal touch.
Qualification and more
If you want to present yourself as a trusted expert, we recommend adding your qualifications or certifications. Also, don't forget to mention your website or store and your networks like LinkedIn so that your customers can learn more about you and your company.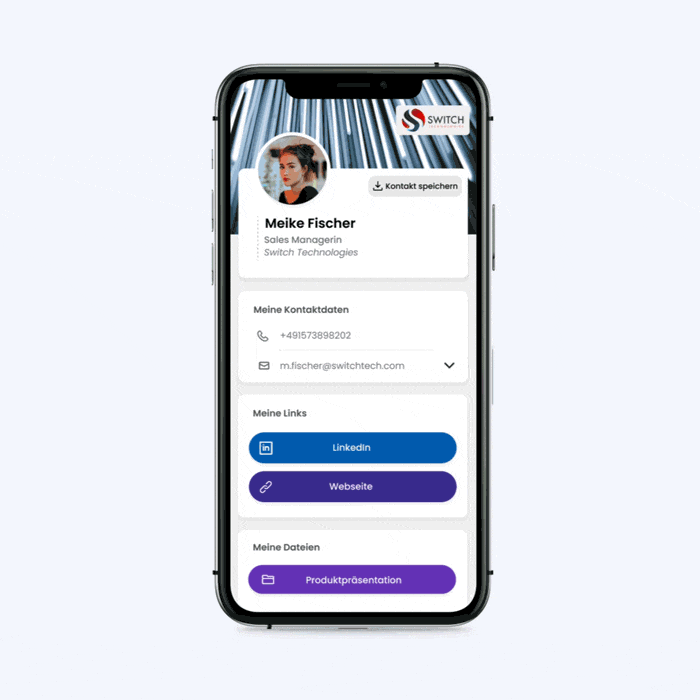 With an attractive digital business card you can highlight not only your contact information, but also your qualities and expertise. Files like documents about your past professional achievements or an image of the products you offer. Videos also grab your recipient's attention and generate interest in your work!
12 reasons why Lemontaps digital business card is the best for your work!
Our digital business card is inexpensive at 2.00 Euro per month with all the features you need for your work at home office or on the road

If you have any problems or questions regarding your digital business card, contact Lemontaps.

With our management platform you have the possibility to manage all digital profiles of your employees and adjust them with one click

Day or night, you can change your contact details as often as you want every day.

We Offer Design Templates For Your Zoom Background

You may share your link or QR code anywhere you like

Variety of content: Add as many links and files as you prefer according to your ideas

Modern design: you can add your own style elements to make the business card match your corporate design.

Record and export as many contacts to work with the data

Easy sharing: In email signature, presentation, online meeting, chat, website

You do not need an extra app to create the business card

In our Pro version you can even add notes to each individual contact
Use NFC business cards despite home office
Beyond the online communication channel, despite being a home office, there are events and functions that you can attend as a business owner or employee to raise awareness of your company and make valuable contacts.
Fairs
In this case, sometimes you will give a company presentation where you will include your QR code so that your audience can easily scan it if they are interested.
Conversation
Advantages of our digital business cards at Lemontaps are also the combination with NFC cards. You can tap these in direct conversation with business contacts via smartphone.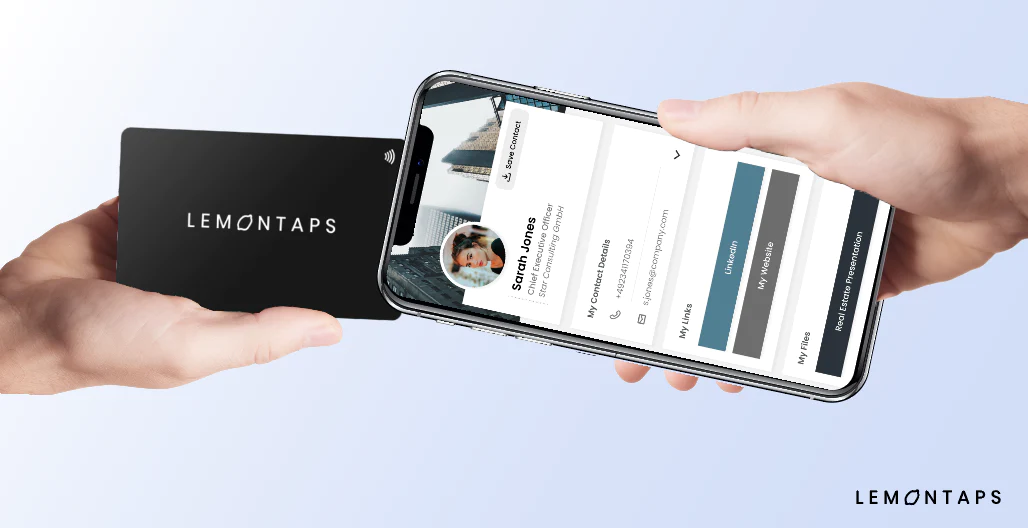 Modern impression with NFC business cards
Take advantage of the design possibilities of our NFC cards, because with them you can additionally make a modern impression. Per
Our business cards at a glance
The alternative to the purely digital business card are our NFC business cards in various designs. The cards are available in wood, metal or plastic. You can easily customize your design and we will help you with advice and support.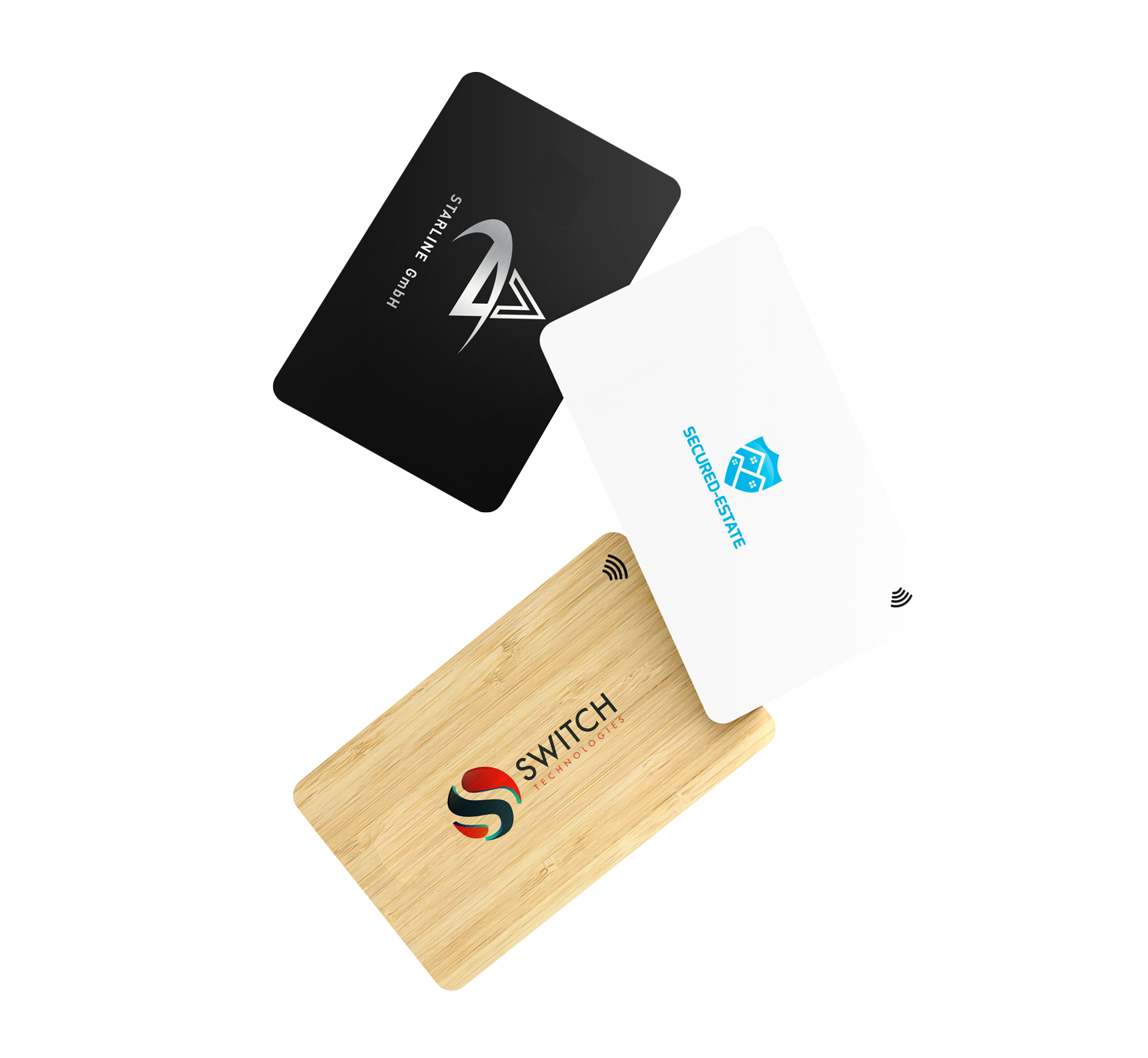 Note
There are many ways you can design a digital business card for your company. Keep in mind that you not only need to choose the correct corporate design of the card, but also rely on reusability, durability, robustness and ease of use. The longest lasting is our metal NFC business card.
Conclusion
If you want to start new projects or venture into new directions, then you should consider using a digital business card instead of traditional business cards. They are more cost effective and convenient.
Create your best digital business card now for free and see for yourself the benefits our digital business card brings to your home office work in our demo.